Atlanta Chemical Peels
Chemical peels are one means of skin rejuvenation through chemical exfoliation. The structure of the skin is similar to a building made of bricks and mortar. The bricks are skin cells and the mortar is the intercellular cement, or the material that binds the cells together. When a patient undergoes a chemical peel, the peel solution is applied to the skin to help break down the intercellular cement to help slough off dead or damaged cells, ultimately revealing a newer, brighter complexion. Not all chemical peels are the same and they vary greatly in strength. We offer a variety of peel options, including mild, moderate and deep peels for various skin types and conditions. Chemical peels are commonly used to treat photo aging, hyperpigmentation (sun spots or melasma), and textural irregularities. Our medical aesthetician will conduct a thorough consultation prior to recommending a chemical peel option. Important details such as after effects and down time will be discussed so patients can plan ahead for their treatment. Chemical peels are an important part of regular skin maintenance and also deliver amazing results. Consult with the experts at the K Spa Medical Skin Spa today to see if you are a candidate for peels.
In addition to chemical peels, we also offer "The Perfect Derma Peel" for facial rejuvenation.
Effective Skin Rejuvenation
The K Spa, an extension of Kalos Facial Plastic Surgery, is pleased to offer chemical peels to help patients achieve skin rejuvenation. Depending on the individual patient's needs and goals, a chemical peel regimen will be customized accordingly by our trained medical aesthetician. Chemical peels often work best in a series and can enhance other cosmetic procedures such as laser treatments, injectables and surgery. A thorough consultation will precede all chemical peel procedures in order to select the best peel option for the patient. The details of the procedure will be discussed at length so the patient is well prepared for the treatment. Many times skin care products will be recommended for use before and after the patient undergoes a chemical peel for optimum results. We have observed great results when patients use medical grade skin care products in conjunction with peels. Many times, our aesthetician will have patients pre-treat with specific products prior to undergoing peels and will recommend products to be used after peels are complete to ensure the results of the peel are long lasting.
Plastic Surgeon Offering Chemical Peels
Chemical peels are ideal for patients seeking to improve the appearance of wrinkles, uneven skin tone and texture, and breakouts. Patients with milder skin conditions such as mild photo aging or acne will benefit best from mild to moderate chemical peels. Patients with moderate to severe photo damage or other conditions will best benefit from moderate to deep peels. Chemical peels are made up of solutions consisting of different chemical compounds like alpha-hydroxy acid (i.e. glycolic acid found in the Neo Peels), beta-hydroxy acid  (i.e. salicylic acid found in the Obagi Blue Peel Radiance), and trichloroatic acid (TCA found in the Obagi Blue Peel). Our Vitalize Peel contains a mixture of AHA, BHA, retinol and resorcinol, a common ingredient used to promote peeling. Our expert staff will consult with each patient to find the best peel option for their individual needs.
We are proud to offer the following chemical peel options for a variety of skin types and conditions:
Zo Ossential Stimulator Peel
This is a quick and easy treatment that can be done in your lunch hour. It smooths away fine to moderate lines and wrinkles, acne, age spots, uneven pigmentation and rough skin texture.
There is no downtime, peeling or redness afterwards; just glowing healthy skin!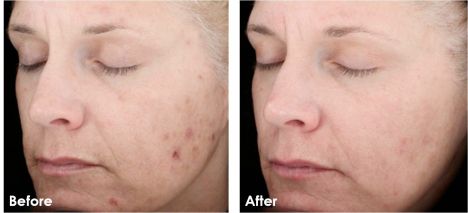 PCA Peels
Sensi Peel

Is formulated as a unique peeling option for all patients including those with highly sensitive skin. This gentle 6% TCA solution will improve surface texture and brighten the skin while helping to promote and even skin tone.

Ultra Peel I

This treatment has been specifically formulated for maturing skin and will help improve the appearance of fine lines and wrinkles, while promoting an even skin tone and clear complexion.

PCA Peel with Hydroquinone

This enhanced Jessner's formula is for those who have no sensitivity to hydroquinone. This peel helps promote an even skin tone and a clear complexion.

Smoothing Body Treatment

This set contains Pre-Peel Accelerator mask (step 1) and Smoothing Body Peel (step 2). Pre-Peel Accelerator mask (step 1) provides nourishing ingredients that soften and hydrate the skin's surface and Smoothing Body Peel (step 2) improves the appearance and texture of the skin with a combination of exfoliating smoothing and brightening ingredients. This treatment is an excellent choice for promoting an even skin tone and clear complexion on the arms, legs, back, chest, hands and feet.

The Perfect Derma Peel

Is safe, effective medium depth peel for all skin types & Ethnicities. This product is virtually painless with no peel prep and little down time. This is the only peel that includes the powerful anti-oxidant Glutathione, which lightens and brightens the skin, slows down the aging process and helps prevent wrinkles.
Contact our Chemical Peels Specialists today to schedule your consultation at The K Spa.
Disclaimer: These Are Actual Results For Patients Of Dr. Benjamin Stong. Plastic & Cosmetic Surgery Results Can Vary Between Patients.