Atlanta Chemical Peels
Chemical peels are one means of skin rejuvenation through chemical exfoliation. The structure of the skin is similar to a building made of bricks and mortar. The bricks are skin cells and the mortar is the intercellular cement, or the material that binds the cells together. When a patient undergoes a chemical peel, the peel solution is applied to the skin to help break down the intercellular cement to help slough off dead or damaged cells, ultimately revealing a newer, brighter complexion. Not all chemical peels are the same and they vary greatly in strength. We offer a variety of peel options, including mild, moderate and deep peels for various skin types and conditions. Chemical peels are commonly used to treat photo aging, hyperpigmentation (sun spots or melasma), and textural irregularities. Our medical aesthetician will conduct a thorough consultation prior to recommending a chemical peel option. Important details such as after effects and down time will be discussed so patients can plan ahead for their treatment. Chemical peels are an important part of regular skin maintenance and also deliver amazing results. Consult with the experts at the K Spa Medical Skin Spa today to see if you are a candidate for peels.
In addition to chemical peels, we also offer "The Perfect Derma Peel" for facial rejuvenation.
Effective Skin Rejuvenation
The K Spa, an extension of Kalos Facial Plastic Surgery, is pleased to offer chemical peels to help patients achieve skin rejuvenation. Depending on the individual patient's needs and goals, a chemical peel regimen will be customized accordingly by our trained medical aesthetician. Chemical peels often work best in a series and can enhance other cosmetic procedures such as laser treatments, injectables and surgery. A thorough consultation will precede all chemical peel procedures in order to select the best peel option for the patient. The details of the procedure will be discussed at length so the patient is well prepared for the treatment. Many times skin care products will be recommended for use before and after the patient undergoes a chemical peel for optimum results. We have observed great results when patients use medical grade skin care products in conjunction with peels. Many times, our aesthetician will have patients pre-treat with specific products prior to undergoing peels and will recommend products to be used after peels are complete to ensure the results of the peel are long lasting.
Plastic Surgeon Offering Chemical Peels
Chemical peels are ideal for patients seeking to improve the appearance of wrinkles, uneven skin tone and texture, and breakouts. Patients with milder skin conditions such as mild photo aging or acne will benefit best from mild to moderate chemical peels. Patients with moderate to severe photo damage or other conditions will best benefit from moderate to deep peels. Chemical peels are made up of solutions consisting of different chemical compounds like alpha-hydroxy acid (i.e. glycolic acid found in the Neo Peels), beta-hydroxy acid  (i.e. salicylic acid found in the Obagi Blue Peel Radiance), and trichloroatic acid (TCA found in the Obagi Blue Peel). Our Vitalize Peel contains a mixture of AHA, BHA, retinol and resorcinol, a common ingredient used to promote peeling. Our expert staff will consult with each patient to find the best peel option for their individual needs.
We are proud to offer the following chemical peel options for a variety of skin types and conditions:
NEO•PEEL with Glycolic acid and MELAPLEX® technology
Ideal for mild to moderate photo-aging, fine lines, pigmentation and acne.
The Neocutis NEO•PEEL combines glycolic acid with other ingredients designed to brighten skin in order to help treat signs of photo-aging such as wrinkles and pigmentation as well as acne. It is recommended that patients undergo a series of 3-6 peels spaced about 2-4 weeks apart for best results. The percentage of active ingredients in the NEO•PEEL will determine the strength of the treatment and the range is between 20-70% glycolic acid. Normally, with all types of treatments with NEO•PEEL, there is little to no downtime and minimal redness following the peel. A mild amount of peeling can occur within a few days of the treatment, though it is quite minimal. This peel option is best for patients with mild to moderate photo damage or acne, or for patients who do not want significant downtime. This peel is a great option for routine skin maintenance and is effective in combination with medical grade skin care products and other aesthetic procedures.
Obagi Blue Peel Radiance

Ideal for mild to moderate photo aging, fine lines, pigmentation and acne.
The Obagi Blue Peel Radiance is a milder peel option designed to produce smooth, radiant skin. It is a perfect option before a special event to revitalize and refresh the skin. It is also ideal for darker skin types with pigmentation issues. It contains 20% salicylic acid to produce a skin-evening effect. Salicylic acid can be quite effective in treating acne which is why we recommend this peel frequently for acne patients. Patients will see results after one treatment but a series of 4-6 peels is recommended for best results. This peel has no downtime and does not produce shedding or peeling as can be expected with other chemical peels. This peel is ideal for routine skin maintenance, in between other aesthetic procedures such as lasers, injectables or surgery, and is best when used with medical grade skin care products.
Skin Medica Vitalize Peel
Ideal for moderate photo aging, acne and textural and pigmentation irregularities
The Vitalize Peel is a "tried and true" option for many different skin types and conditions because it helps to treat so many different skin issues. Normally, a series of 3-6 peels is recommended for best results, though patients will see improvement after just one peel. The Vitalize peel is composed of lactic acid, salicylic acid, retinol and resorcinol, which produces a moderate peeling effect. The combination of powerful ingredients is what makes this peel so effective for so many different skin types. Patients can expect to peel for about 2-3 days and sometimes it takes a few days for the peeling process to start. The Vitalize Peel addresses moderate textural and pigmentation irregularities and can help to improve acne. It also works to encourage the production of collagen as it helps to break down deadened, damaged layers of skin to ultimately reveal new, youthful, healthy skin.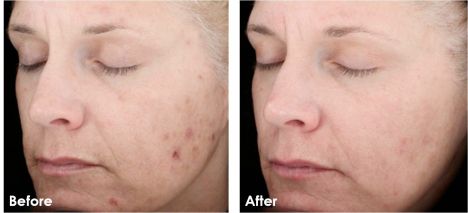 Obagi Blue Peel
Ideal for moderate to severe photo aging, fine lines, pigmentation and acne.
The Obagi Blue Peel is a chemical peel solution made up of a blue solution and trichloroatic acid (TCA) designed to treat moderate to severe photo aging, fine lines and pigmentation. Sometimes a series of peels is recommended in order to effectively treat certain skin conditions. Many times, patients will achieve the desired result after one peel due to the intensity of the treatment. The peel will be applied in layers (between 1-4) depending on the skin type and condition(s) being treated. The peel shows up blue so that the medical aesthetician performing the peel can gauge the depth and penetration of the solution. The peel will remain blue on the skin for 12-24 hours following the treatment. Normally, the skin begins peeling within a few days of the treatment and full healing occurs in 7-10 days (sometimes longer if more layers are used).
Contact our Chemical Peels Specialists today to schedule your consultation at The K Spa.
Disclaimer: These Are Actual Results For Patients Of Dr. Benjamin Stong. Plastic & Cosmetic Surgery Results Can Vary Between Patients.