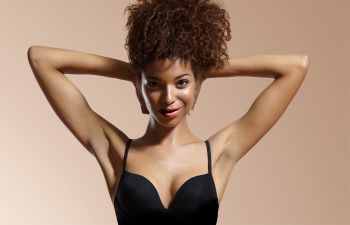 Did you know that other ailments like migraines, muscle spasms, and excessive sweating can be treated with Botox too?  Does the thought of not having to wear irritating deodorants or seeing embarrassing wet, sweat-stained clothing, appeal to you?  Then you may want to visit our Atlanta experts at Kalos Facial Plastic Surgery for Botox.
What You Should Know About Treating Sweating with Botox?
Botox for sweating works by freezing the nerves that tell your glands to produce sweat. Two to seven days after your injections your sweating will stop. Optimal results will be seen in two weeks.
Botox is limited to the areas where it's injected.  The FDA has approved Botox to be used in the underarms to prevent sweating. It is however also being used off-label to help with excessive sweating of the palms and forehead. 
For underarm sweating, you can expect to be dry between four to fourteen months. When moisture starts to return you can see us for another injection procedure.
There's nothing to be scared of.  The injection used for Botox is a very tiny needle and the procedure is quick. There's no downtime so you're free to go on with your life right away.
Just be certain to tell your doctor if you're taking any medications. Especially if you're on a blood thinner. He may ask you to stop a few days prior to your procedure.
Come See What We Have to Offer
Our Atlanta Plastic Surgeon can help you look and feel your best.  Call Kalos Facial Plastic Surgery today for your consultation and see how we can help you with our number of procedures tailored just for you.
Posted on behalf of Kalos Facial Plastic Surgery
371 East Paces Ferry Rd, Suite 850
Atlanta, GA 30305
Phone: (404) 963-6665